WHY CARCASSONNE?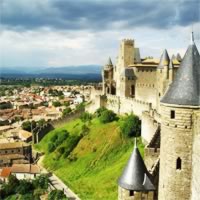 The greatest fortress city of Europe, Carcassonne, is a fairyland, evoking bold knights, fair damsels, and troubadours. Time seems to stand still in this place filled with magic. It is separated into the fortified Cité de Carcassonne and the more expansive lower city, the ville basse. Everybody comes for the Cité, the double-walled and turreted fortress that was added to the UNESCO list of World Heritage Sites in 1997.

Best Carcassonne Vacation Packages:

More details

More details

More details
Feedback from our travelers
5 Reviews
Traveled on: 6/22/2018 12:00:00 AM
Traveled on: 2/4/2017 12:00:00 AM
Traveled on: 11/4/2014 12:00:00 AM

Need booking assistance?
We're glad to help:
Call Us 7 days a week
from 8AM to Midnight ET
1-800-430-0484