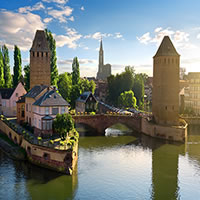 Strasbourg is one of France`s greatest cities and also one of the major ports, situated only 2 miles west of the Rhine. It has been the subject of a centuries-long tug of war between France and Germany, and is all the more exciting and beautiful because of it. Here you`ll find a rewarding mixture of culture, language and cuisine with influences from both sides.


Situated in the northeast corner of France, Nancy was the capital of old Lorraine. The city was built around a fortified castle on a rock. Because of its serenely beautiful, history, cuisine and architecture, it once rivaled Paris as the center for Art Nouveau.


Colmar is Alsace`s most beautiful city, abounding with medieval and early Renaissance buildings. Colmar`s old quarter is filled with streets of unexpected twists and turns looking more German than French.


Burgundy has it all - glorious countryside and vineyards, amazing gastronomy, a fabulous history, picturesque villages and beautiful towns, the Burgundy Canal, and an incredible capital city - Dijon. There are also more chateaux in this region than any other in France, many of them with well-stocked wine cellars, gourmet restaurants nearby and swimming pools. It`s a stunning region with plenty going for it!


France`s Loire Valley is the lush area surrounding the 170-mile center portion of the Loire River in Central France. This region is considered to be the `Gardens of France`. There are literally countless chateaux (castles) scattered between a beautiful river and charming little towns. The abundance of stunning landscapes with vineyards, fairly tale castles and rich history, that surrounds them, makes the Loire Valley truly an incredible region to visit.


he winemaking region of Champagne, located in the northeast part of France just 55 miles outside of Paris, is known for its sparkling white wine. This is one of the most famous and posh areas of France with many well-known Champagne companies like Moet and Chandon, that have cellars and vineyards. This region is intended to enjoy at a leisurely pace if you truly want to appreciate what it has to offer.


Normandy, a region of Northern France just west of Paris, is famous for its role in World War II as well as a number of other significant events throughout its history. However, its rugged coastline on the English Channel is also home to a number of beautiful small towns and villages perfect for an escape from the congestion of Paris, including Caen, Le Havre, and Rouen.


With many of the most beautiful places to visit in France, Provence, a region in southeastern France, is made for explorers. From the Southern Alps and Camargue plains to rolling vineyards, olive groves, pine forests and lavender fields, the stunning variety of landscape offered here make it an irresistible destination to discover. Swim in the Calanques in Cassis, shop in the lively markets, eat Provencal bouillabaisse, catch a festival, cruise the rivers and canals, and discover the many quaint towns and villages.


The southeast coast of Provence, France, is sprinkled with some of the world`s most popular beaches and destinations, including Nice, Monaco, Cannes, Saint Tropez and Menton. Known all over the world for its glamour and beauty, the Riviera is a playground for the rich and famous and a true paradise destination. The French Riviera offers a picture-perfect stretch of coastline, historic hilltop towns, twisting mountain roads and white pebble beaches leading into the azure water. The entire stretch of coastline in the south of France is dotted with a countless number of sights to be explore.


Brittany is a place that is not usually on a lot of traveler's lists. France's northwest cul-de-sac that reaches out into the Atlantic Ocean is just too far off the beaten path for many tourists. However, this can make all the more reason to visit. With over 1,500 miles of jaw-dropping panoramic coastline, charming medieval towns and villages, and the amazing diversity on display, there are really great things to see in Brittany.