WHY AIX EN PROVENCE?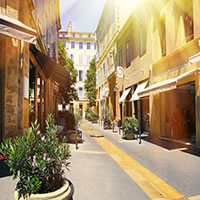 Aix-en-Provence is one of France`s most beautiful cities brimming with quaint cafes, vibrant open-air markets, and style. It`s large student population (3 different universities) keep the city young, exciting and cosmopolitan. When it comes to culture, Aix-en-Provence has a lot to offer, as it was the hometown of famous painter Cézanne. The grace and splendor of Baroque architecture are all around as you stroll through the streets. An added perk to this city is its proximity to the lavender fields, vineyards and mountains of Provence, as well as the Cote d`Azur. There is so much here to see, experience and discover in this city full of life.

Best Aix en Provence Vacation Packages:

More details

More details

More details
Find Suggested Itineraries
Combine cities within France

Feedback from our travelers
8 Reviews
Traveled on: 8/31/2019 12:00:00 AM
Traveled on: 4/27/2019 12:00:00 AM
Traveled on: 10/14/2018 12:00:00 AM

Need booking assistance?
We're glad to help:
Call Us 24 hours a day
7 days a week!
1-800-430-0484