Map of Point of interest
WHY VEJLE?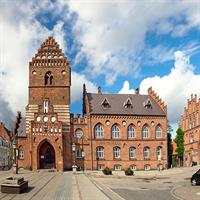 Vejle is a picturesque town and port located at the head of Vejle Fjord, and is known for the forested hills that rise to the north and south of the town and fjord. The most impressive sight of the town is St. Nicolai Gothic church - one of Vejle's oldest buildings, dating back to the 1250s. The church contains one of Denmark's finest bog findings, an Iron Age woman from the year 450 BC, discovered in the Haraldsaer bog in 1835. Other landmarks are: the windmill built on the slopes of the hills to the south, which is a symbol of the town, the Egtved Girl, that was discovered in 1921 and is one of the best preserved Bronze Age findings in Denmark.

Best Vejle Vacation Packages:
Need booking assistance?
We're glad to help:
Call Us 7 days a week
from 8AM to Midnight ET
1-800-430-0484