Map of Point of interest


Momentous landmarks, historic towns and villages, plus delicious cuisine and great wine, beautiful flamenco dancers and vibrant nightlife! Endless possibilities!


Experience a different side of Europe: spend some time in your favorite European City and then a couple of days relaxing in one of Europe's most popular beach destinations.


Birthplace of many ancient civilizations, a land drenched in warm sun, surrounded by a calm, rich sea. It is composed of Greece, Italy, Spain and Turkey.
WHY TOLEDO?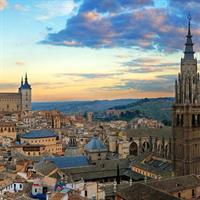 Once the capital of the Spanish Empire, Toledo is one of the Spanish cities with the greatest wealth of monuments. Known as the "city of the three cultures", because Christians, Arabs and Jews lived together there for centuries. Behind its walls Toledo preserves an artistic and cultural legacy in the form of horseshoe-arched mosques, Sephardic synagogues and one of Spain`s finest Gothic cathedrals packed into its dense historical core with such a great diversity of artistic styles, that the old quarter is a real open-air museum, which has led to it being declared a World Heritage Site.

The ancient city of Toledo lies just south of Madrid. The town center sits perched on a hill above the Tagus River, looming over the surrounding countryside. Art enthusiasts should not miss out on Toledo`s incredible collection of works by El Greco. El Greco lived and created several of his masterpieces in Toledo from 1572 to 1614. Go to the Church of Santo Tomé to see his "Burial of the Count of Orgaz." In Toledo`s cathedral, you will get to see El Greco`s "Twelve Apostles and Spoliation of Christ."

Best Toledo Vacation Packages:

More details

More details

More details
Find Suggested Itineraries
Combine cities within Spain

Feedback from our travelers
18 Reviews
Traveled on: 11/22/2019 12:00:00 AM
Traveled on: 11/6/2019 12:00:00 AM
Traveled on: 9/27/2019 12:00:00 AM

Need booking assistance?
We're glad to help:
Call Us 7 days a week
from 8AM to Midnight ET
1-800-430-0484