Map of Point of interest
WHY SHEFFIELD?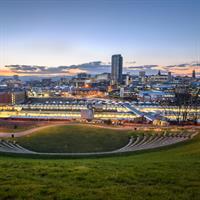 Sheffield is one of the best places to visit if you are planning on exploring the Peak District, which is known for its bucolic vistas, manor homes, mining towns, and mineral springs. Once an industrial giant famous for its steel production, Sheffield is today a prosperous city with more trees per person than any other city in Europe. With the largest theatre complex outside of London and a thriving music scene, this UK city does its best to entertain. Sheffield mixes bustling urban life with easy access to nature and true English countryside.

Best Sheffield Vacation Packages:
Need booking assistance?
We're glad to help:
Call Us 7 days a week
from 8AM to Midnight ET
1-800-430-0484