Map of Point of interest
Cities in The Netherlands
WHY LELYSTAD?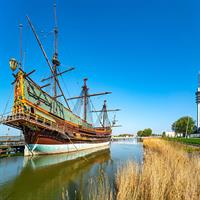 Located in an area of spectacular beauty, Lelystad is famous for the nature park Oostvaardersplassen, which spontaneously grew when the polder of South Flevoland was drained. It also offers several other tourist attractions like: the replica of the 17th-century ship Batavia at the Batavia Shipyard, Batavia Stad outlet shopping center, Hanzestad Compagnie - a fleet of historical sailing ships, Nature Park Lelystad, National Aviation Theme Park Aviodrome. As a matter of act, today, Lelystad is known for its unique architecture, as well as its outdoor activities, such as hiking, cycling, and quite a variety of water sports.

Best Lelystad Vacation Packages:
Need booking assistance?
We're glad to help:
Call Us 7 days a week
from 8AM to Midnight ET
1-800-430-0484