MALTA - TOWNS AND VILLAGES
Valletta
Valletta, the fortress city, is a UNESCO World Heritage Site and the capital city full of charm and beauty. Its founder decreed that it should be `a city built by gentlemen for gentlemen`, and it retains its 16th-century elegance with stunning architecture and fascinating history. It may be small, but it`s packed full of sights and today is one of the most concentrated historic areas in the world.

The city is busy by day, yet retains a timeless atmosphere. The maze of narrow streets offers some of Europe`s finest art works, churches and palaces. As you walk around the Valletta you`ll come across an intriguing historical site around every corner: statues, niches, fountains and coats of arms high up on parapets. Narrow side streets are full of tiny quaint shops and cafés, while Valletta`s main streets are lined with larger international branded shops for fashion, music, jewelry and much more.

Despite being the capital and generally the main cultural and historical point of interest for tourists, Valletta has surprisingly a limited amount of accommodations. Perhaps that is to preserve the area and prevent hotel development tarnishing this remarkably well-preserved historic area. If you do decide to stay in the heart of the city, plan to pay a lot of money.
Floriana
Floriana is a suburb situated just outside the capital city of Malta. It was meant to be a suburb of Valletta, but developed into a town on its own, covering an area of 133 acres with a population of around 2,600 people. The town offers a rich history with a number of historic buildings, churches, gardens and monuments that provide insight into Maltese history.

Floriana is characterized by open spaces, gardens and some fine patricians` houses. Highlights of the town include the graceful St. Publius Church, overlooking Granaries Square and the Argotti Gardens on St. Philip`s Bastion. The vast flag-stoned Granaries Square hides a number of deep silos which were built in the late 17th century to ensure food supplies for Valletta in times of war. Also of interest is the Mall Gardens, a promenade lined with trees and ponds dotted with statues and plaques, it was the first playground to be created in Malta and possibly in all of Europe.
Sliema
Once the home of Malta`s aristocracy; Sliema has now become a major commercial area, very popular for shopping, bars, cafes, restaurants and hotels. Situated on a large peninsula north of Valletta, the coastal area is home to pretty much everything visitors of Malta could need. It also happens to have a great selection of accommodation, offering options for all types of travelers. Sliema is the home to the main ferry to Valletta, as well as plenty of bus routes.

Sliema is home to The Point Shopping Mall, full of your typical clothing stores, cafes and supermarket. Along its ample waterfront and inland too, you can find some of the area`s most well-regarded restaurants, serving local and international cuisine alike. There aren`t all that many attractions in Sliema though, beyond Fort Tigne and its pleasant waterfront parks.
St. Julian`s (San Giljan)
If you`re coming to Malta simply to getaway for a vacation, or escape winter, then St Julian`s Bay is ideal. Located on the Maltese coast, north of Valletta, the area is mostly famous for its thriving nightlife and touristy activity. It is here where visitors will find fast-food chains, pubs, clubs and casinos. St. Julian`s is also the hub for new and luxurious hotels. The landscape of St. Julian`s is dominated by the tallest building in Malta, Portomas Tower that stands at 321 feet. Highlights of this town include wining and dining at a number of excellent bars and restaurants and dancing the night away with overflowing amount of nightclubs to choose from. You will also want to visit the Spinola Palace, a building that is seen as a first stepping stone that started St. Julian`s development.

If you're looking to be in the heart of all the action, then St. Julian's is the resort for you. It's got a popular beach to relax on during the day, and then the town comes alive at night. It`s home to the best nightlife on the island, with a great choice of bars and clubs to party away in.
Gzira
Gzira is a modern town situated on the north-east coast of Malta between Sliema and Msida along the promenade of Marsamxett harbor. The town is popular for its beautiful views of Valletta and Marsamxett Harbor, its yacht marina, seafront and public garden as well as being close to the University of Malta, Sliema and Valletta. Many of the old houses in the area have been replaced with new and luxurious blocks of flats over the last decade, loosing much of Gzira`s charm and character. However there are still a few traditional Maltese houses with the typical charming small balconies.

One of the highlights in Gzira is Manoel Island, a former naval base by the British during WWII, today it serves as an informal sanctuary for ducks and birds. Also make sure to visit Fort Manoel, the Gzira Parish Chruch and walk along the beautiful seaside promenade while in the area. The promenade takes you all the way to Sliema and St. Julian`s with spectacular views of Marsamxett Harbor.
Mellieha
Mellieha is a bustling resort town situated on a hilltop that provides spectacular views across the country. The town is one of Malta`s most attractive tourist and summer resorts with beautiful sandy beaches and blue sea. Mellieha is home of the largest sandy beach, Ghardira, which is a perfect sport for families with small children, as the water is shallow for quite a distance from the shore. The town offers excellent seaside hotels, great restaurants and many souvenir shops. Mellieha is also home to some impressive sights, such as Ghardira Bay, Popeye`s Village, St. Agatha`s Tower, White Tower Bay and the sandy beach at Armier Bay.
Bugibba - St. Paul`s Bay
Despite being small, the town of Bugibba has plenty going for it, with a great selection of seafront cafés, bars and restaurants to enjoy. One of Malta`s most popular resorts located in the North East part of Malta, the town boasts picturesque coves, a bustling promenade, a wealth of history and plenty of exciting water sports to try out. The nightlife in Bugibba is also lively with cinemas, bars, restaurants and even a casino.

The promenade offers beautiful views of the open sea and St. Paul`s Island. The many playgrounds and wide variety of entertainment options make this area very popular with families. There are plenty of hotels and holiday apartments along the coastline offering many different types of accommodations.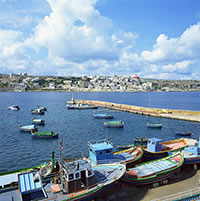 Qawra
The popular resort of Qawra has an award-winning rocky beach and incredible views to rival all others on the island. The town is located on the North part of Malta, neighboring Bugibba and St. Paul`s Bay. Together these three resort towns make up the largest seaside resorts.

Qawra provides numerous accommodations for all types of travelers, a variety of nightlife options including casinos and plenty of shops. Water sports take over the shoreline, and although there are no sandy beaches, swimming, sunbathing and diving are still very popular activities here. There is a long promenade that stretches all the way to St. Paul`s Bay. The walkway outlines the rocky shoreline, and provides stunning views of the open sea, a perfect space for leisurely walks and jogs, especially during sunset.
Gozo Island
Gozo is the second largest island in the archipelago offering a tranquil haven for a tempo and scene change. Gozo is a greener, more rural and smaller sister island of Malta with green rolling hills and peaceful bays. It is a charming destination boasting stunning nature sites that draw many visitors. Much of the scenery is wild and rugged, and the crystal-clear waters are ideal for swimming, snorkeling, and scuba diving. The island is home to some of the oldest religious structures in the world, the fascinating Ggantija temples, and the dramatic orange-red sands of Ramla Bay. To arrive in Gozo, visitors take a ferry from Cirkewwa on Malta to the seaport of Mgarr in Gozo. There are buses (and taxis) to get around the island.

Victoria is the capital city of Gozo, also known as Rabat. Here, visitors will find the Citadel, a cathedral, and a few museums. There are many little towns throughout the island that offer a variety of different areas to be explored.