Map of Point of interest
WHY BERWICK-UPON-TWEED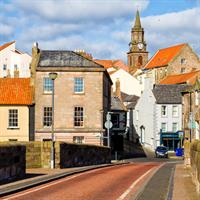 England`s northernmost city is a picturesque fortress town, cleaved by the River Tweed, which is spanned by the Grade I–listed Berwick Bridge (aka Old Bridge). Berwick-upon-Tweed is a beautiful and exciting border-land melting pot and that`s what gives it such impressive depth of character. Berwick-upon-Tweed`s dominant Town Walls, old prison cells of the Town Hall and winding, cobbled streets hold a complex and violent past.

Best Berwick-upon-Tweed Vacation Packages:
Need booking assistance?
We're glad to help:
Call Us 7 days a week
from 8AM to Midnight ET
1-800-430-0484