Map of Point of interest
WHY OXFORD?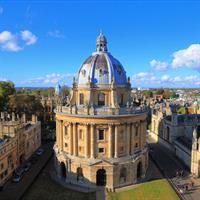 Oxford is home to the oldest and most prestigious university in the English-speaking world. The architecture of its 38 colleges in the city`s medieval center led poet Matthew Arnold to nickname it the `City of Dreaming Spires`. University College and Magdalen College are off the High Street, which runs from Carfax Tower (with city views) to the Botanic Garden on the River Cherwell. The elegant honey-toned buildings of the university`s colleges, scattered throughout the city, wrap around tranquil courtyards along narrow cobbled lanes, and, inside their grounds, a studious calm reigns. Oxford offers besides historical sites and several good museums, a vibrant shopping and commercial area with plenty of shops, restaurants and cafes.

Best Oxford Vacation Packages:

More details

More details

More details
Feedback from our travelers
9 Reviews
Traveled on: 5/1/2019 12:00:00 AM
Traveled on: 7/28/2018 12:00:00 AM
Traveled on: 4/23/2018 12:00:00 AM

Need booking assistance?
We're glad to help:
Call Us 7 days a week
from 8AM to Midnight ET
1-800-430-0484